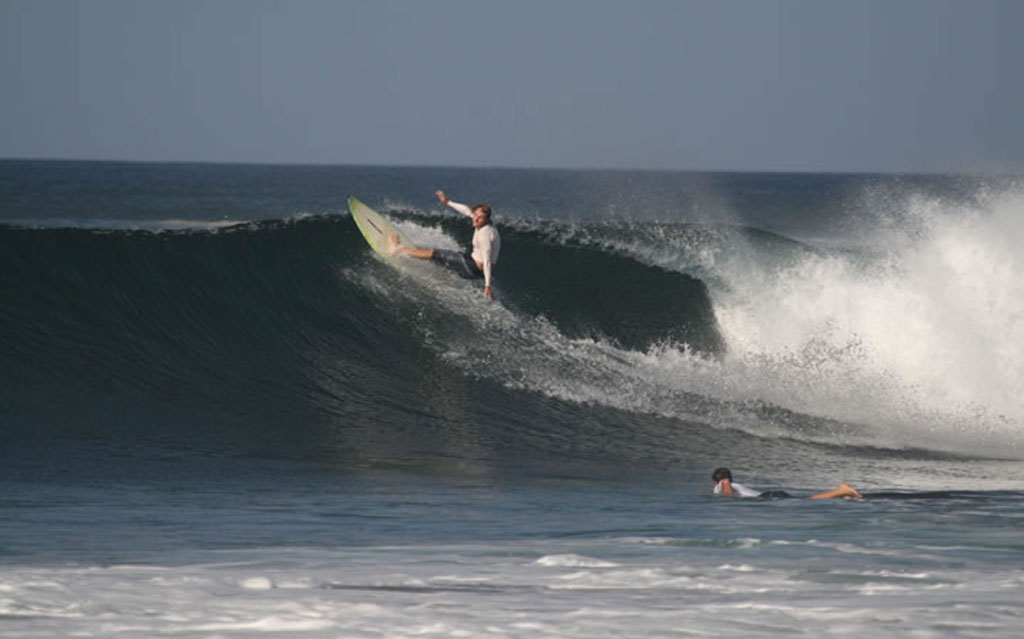 Santa Teresa has rapidly become known as the best surfing spot in Costa Rica. We are located right on the tip of the southern Nicoya Peninsula which allows us to receive swell from all directions, which translates to year round surf. Many have come to Costa Ricawanting to surf all over, but people often never leave here because we always have good waves.
The area offers a variety of levels and points also. Santa Teresa beach break is more of a top to bottom wave working at all tides but best at mid tide incoming.The famous Suck-Rock is on the north end with a few miles of white sand beach between it and La Lora to the south. Playa Carmen is a little more of a mellow wave, but with breaks off the rocks in some places, can work a bit like a point. Further to the south we have 2 very good left point breaks when the south swell is working. Mar Azul peels long from the point to the inside of the cove and the more advanced Sunset Reef throws hard and heavy, advanced surfers only please. Don't worry, if you are a beginner surfer, there are plenty of inside breaks for you up and down the coast.When we have really big swells out of the south, there is always the option of going over to Cabuya . Here those enormous waves in ST, are reduced by half the size and peel long into the cove. The beautiful Playa Hermosa is to the north of ST offering excellent scenery and surf as well.
There are many surf schools and shops here in town so you can rent, buy, or take a surf lesson or two. If you are already advanced, you won't leave disappointed. I arrived here years ago on a surf trip, and here I am today.