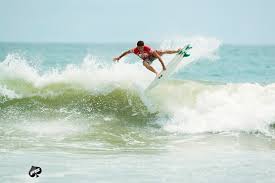 Have you ever been lucky enough to have a surf contest in your own backyard? Wouldn't that just be amazing? From one day to the next, your local beach could be transformed into a hangout for professional surfers as well as a runway for all of the beautiful Miss Reef contestants. Amazing, right? Well… this past week in Santa Teresa, we were lucky to have just that as Santa Teresa played host to the 2013 Reef Classic Costa Rica.
The 2013 Reef Classic is a very popular annual surfing competition for anyone and everyone that is passionate about surfing in Latin America. It is a part of the ALAS Latin Surfing Tour and it is a highly esteemed international surfing competition where some of the best and most talented surfers from all over Latin America comet to meet and show off their fanciest moves. This year, for the eighth time since 2004, Costa Rica was chosen as one of the six stops on this annual tour. The other five stops on the 2013 Reef Classic Tour are Argentina, Ecuador, Panama, Mexico and Chile.
The competition was a huge success here in Santa Teresa as this international surfing event attracted hundreds of people to our little community. Starting on April 17th, the streets of Santa Teresa erupted with media furry, excited fans and anxious competitors. The ocean was pumping and the crowd was poised on the beach as the competition intensified over four straight days. Many professional Costa Rican surfers competed in this event against some of the best Latin American surfers from Brazil, Peru and Venezuela.
The competition was fierce but in my opinion, the best part about this surfing competition wasn't the competition at all. This event gave the whole town of Santa Teresa an excuse to come together as a community. A few days before the competition, Zwart Café as well as a few local surf shops joined forces and spent a week canvassing Santa Teresa for donations. These donations eventually helped six underprivileged local surfers enter and compete in the Junior's surfing division. I think that this is amazing! The local community also showed up in droves to support all of the local talent that competed throughout the event. Two of Santa Teresa's obvious favourites were Anthony Fillingim, a local surfer on the international circuit who competed in the Men's Open, and Anthony Flores who placed 2nd in the Long board competition.
This rainy season has proved to bring epic waves to the area!  With rain comes green jungles, dustless roads, less people and south swells for all you surfers.  Come check us out before the next high season to enjoy low prices in our tranquilo paradise!!!