If you are looking for a kickback relaxing vacation, Santa Teresa is just the place.  Also, if it's outdoors adventure you are looking for, there is no shortage here.  Rent a quad, go fishing with local captains, canopy tours, snorkeling, surf lessons and rentals, and horseback riding to name a few.
Surf Lesson or Surf Guide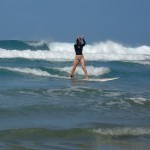 Have you always wanted to learn to surf but didn't know where to start? You have come to the best place: beautiful scenery, friendly people, and warm tropical waters. Learn this healthy and natural sport with true professional surf instructors,offering group or private 2–‐hour lessons for all levels. Surf board rentals and surf tours are also available.
Standup Paddle Boarding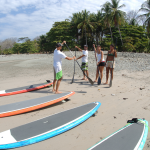 Take a spin and quickly learn the new sport developed in Hawaii by Laird Hamilton and his Surf buddies. Stand up Paddle Boarding (SUP) provides you with a total body workout and allows for a great view. In just a few sessions, you will improve your balance & coordination as well as your strength & endurance. Mal Pais is the perfect setting to get started and enjoy this invigorating and fun sport, it has the right instructors and equipment to make your experience unforgettable
Canopy del Pacífico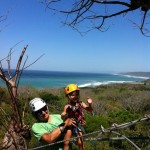 The exiting canopy ride is nearly a mile long and has 11 platforms set high in the gigantic trees. Steel cables connect the platforms which are between 5 and 30 meters in height.
You will not forget the experience of flying along our 300 meters long shot over a canyon between the second and the third platform, or the incredible 500 meters long ride through the jungle along a creek.
Professional nature guides will accompany you on the unforgettable journey through the biodiversity of the environment.
Montezuma Waterfalls Canopy Tour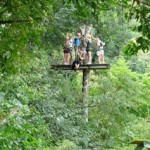 The Canopy Tour is located in the hills surrounding Montezuma, only 5 minutes drive from the center. The canopy consists of 11 platforms and 10 cables which cross over the famous Montezuma River and takes 2 hours to complete.
While traveling the cables of the canopy you will enjoy incredible views of the ocean while surrounded by the rich tropical forest and have a chance to take a refreshing swim in the famous waterfalls.
Tortuga Island Snorkeling Tour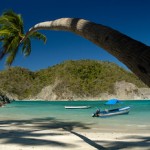 Cruising along the coast for a breathtaking 50-minute boat ride is how you'll begin your voyage to Tortuga Island. Jagged volcanic rock spills into the sea to create a dramatic contrast with the brown sand, red rocks and crushed shells that make up the variety of different beaches along the way.
Upon arriving to the tropical paradise of Tortuga Island we anchor the boat within viewing distance of the white sand beach for our first snorkeling session.
After your incredible snorkeling adventure we take you onto the white sand beach of Tortuga Island. While lunch is being prepared grab a cold drink and take a stroll along the beach and swim in the calm crystal waters. For lunch our chef serves up fresh BBQ fish or chicken in his secret sauce, tasty grilled potatoes and vegetables, bread and a big fresh tropical fruit buffet.
Cabo Blanco National Park Tour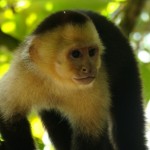 The Cabo Blanco Nature Reserve, located on the very tip of the Nicoya Peninsula, encompasses 1,172 hectares of mixed forest, classified as moist tropical forest. The tour takes a 2 hour Nature Hike into Costa Rica's oldest protected area.
Curu Wildlife Refuge
Curú National Wildlife Refuge and Hacienda is teaming with abundant wildlife and hosts one of the most beautiful beaches and protected bays on the Nicoya Peninsula. The area offers easy access to seeing some of the most sought after species such as White-faced monkeys, Howler monkeys, Spider Monkeys, Scarlet Macaws, White-tailed Deer, Collared Peccary, Coati, Raccoons, Coyotes, Iguanas, and hundreds of species of tropical and migratory birds.
Horseback Riding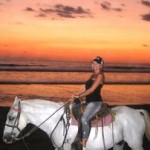 A horseback ride is a great way to explore nature and become acquainted with Santa Teresa's local beauty. An experienced nature guide will interpret the area's culture, flora and fauna. Choose between a 2-hour morning or sunset ride. Enjoy an exciting ride into the Manzanillo hills and then finish with an exhilarating gallop the beach. Or slowly trot along, taking in the views.
Sportfishing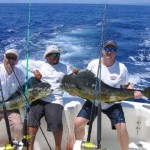 Fishing out of the port in Mal Pais is a must do. When you arrive at the fishermans village, you get a sense of how Mal Pais and Santa Teresa were many years ago. The boat launch is right off the beach as you set off in panga sized boats with very seasoned boat captains.
You'll have a variety of mahi, tuna, mackerel, sea-bass, and rooster fish to name a few. Depending on the time of year, you may see whales surfacing, giant sea-rays dancing on the water, and almost always, a guaranteed gorgeous sunset. The best part…it's often just only a few minutes boat ride off the coast before your lure is in the water. Many have been known to come home with as many as 25 tuna in a 3 hour tour.
ATV's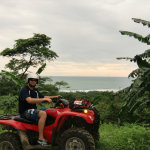 There is no better way to explore the peninsula then on an ATV or Quad as we call them. Great for all day getaways or just to run down to the market, Quads are the preferred mode of transportation for most of the locals. You can rent them for 7 Hours / 10 Hours / 24 Hours / Daily / Weekly
*Gasoline is not included in the rental fee of the ATV